News Department
Morris County honors Goryeb Children's Hospital and NJ Federal Agents
PBA Local 121 Donates $13,000 to Morristown Pediatric Specialty Center
MORRIS COUNTY, NJ – The Morris County Board of County Commissioners honored Goryeb Children's Hospital in Morristown and the NJ State PBA Federal Agents Local 121, as the union presented a $13,000 donation to help support the nonprofit, state-designated "Children's Hospital."
Commissioner Thomas Mastrangelo delivered the Resolutions of Honor to both organizations on Tuesday, Dec. 14, at the Morristown hospital, which opened in 2002 and is part of Atlantic Health System. The Goryeb resolution was accepted by Dr. Walter Rosenfeld, who is Chair of Pediatrics at Goryeb Children's Hospital at Morristown Medical Center and Medical Director of Children's Health at Atlantic Health System.
The PBA 121 resolution was accepted by Local 121 President Bruno Varano, who also delivered a large check to the hospital. Joining the event was Michael Avolio, a patient at Goryeb Children's Hospital.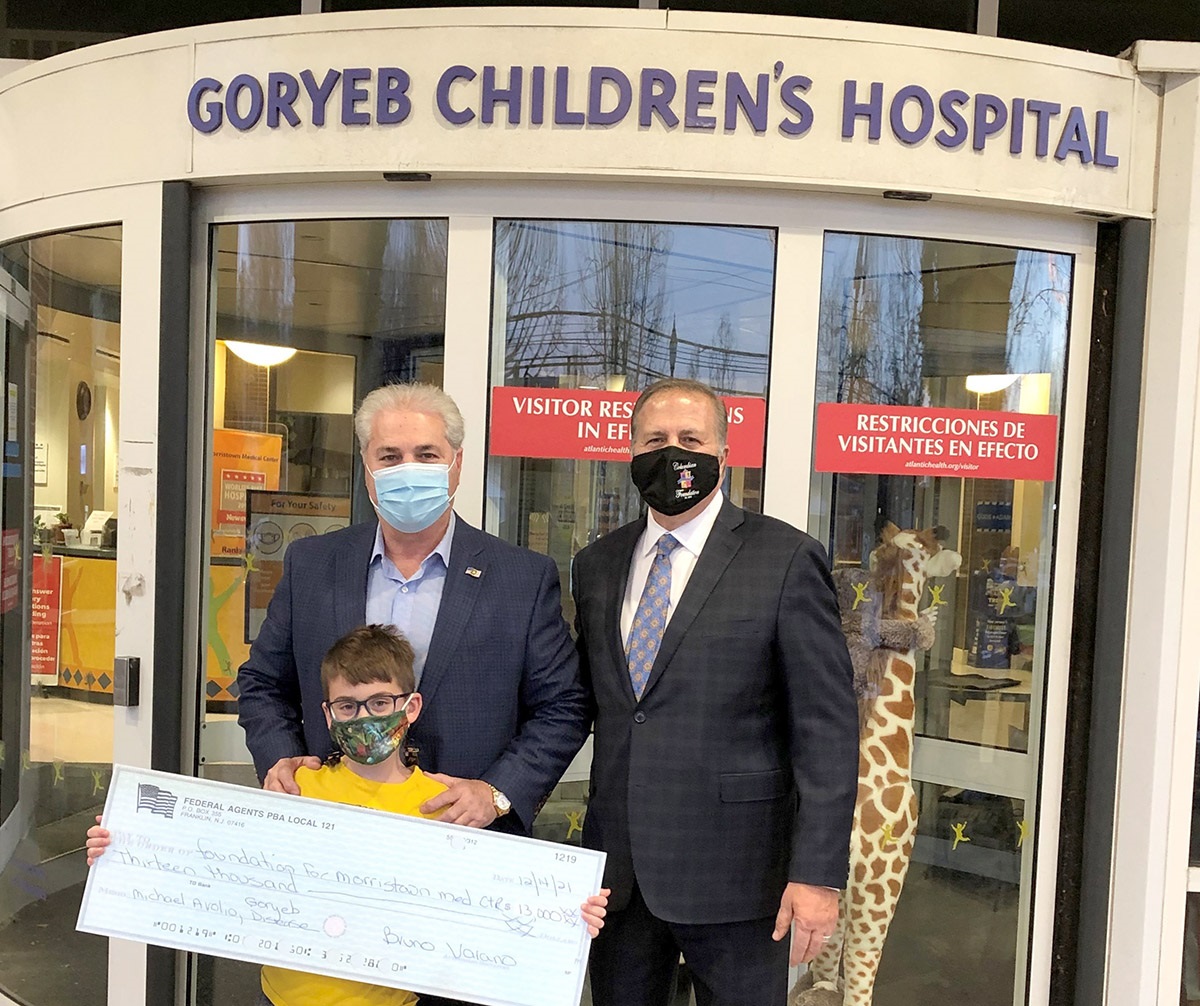 The Commissioners' resolution commended the hospital for its outstanding public service, noting The Joan and Edward Foley Pediatric Intensive Care Unit at Goryeb Children's Hospital provides award-winning care to infants, children and adolescents with life-threatening illnesses and injuries. It received a Gold Beacon Award for Excellence from the American Association of Critical Care Nurses.
More than 250 community pediatricians are on staff at the hospital with more than 100 board-certified pediatric specialists, and it is considered northern New Jersey's leading specialized pediatric hospital. Among its specialties are treating childhood neurological conditions, pediatric surgery, advanced cardiac services to assess and treat heart defects in children, and treating gastrointestinal disorders in children.
The Commissioners' resolution honoring PBA Local 121 commended the union for its public service and dedicated charitable efforts.
The union formed in 1979 as a professional association representing federal law enforcement officers who reside in New Jersey and work in New Jersey and/or New York, investigating alleged violations of federal laws. It has a membership spanning more than 50 assorted federal law enforcement agencies, and its generosity as a not-for-profit fraternal organization has become well established.
Other beneficiaries of PBA Local 121 include the Valerie Fund, The Make-A-Wish Foundation of New Jersey, America's Special Kidz, The Believe Project, The New Jersey Special Olympics and Turning Point, Compassionate Treatment for Alcoholism & Drug Dependency. The PBA also has supported the Deborah Heart and Lung Hospital, Comfort Zone Camp, Eden Family Services for Autistic Children, Ronald McDonald House, Robert Wood Johnson Pediatric Trauma Center, Pediatric Oncology unit at St. Joseph's Hospital, and other local charities.