NEW JERSEY – The New Jersey Department of Labor and Workforce Development (NJDOL) received 19,636* initial unemployment claims last week, a nearly 14 percent decline over the prior week and the fewest new applications since the week ending Aug. 8.
NJDOL paid out $310 million to eligible claimants for the week ending Sept. 12. A total of $15.4 billion in federal and state unemployment benefits has been distributed to unemployed New Jersey workers since mid-March.
"We're grateful to see more New Jerseyans returning to work, but we are also keenly  aware of how many employees and small business owners remain unemployed, often for the first time in their lives. It's these workers — who have depleted their savings, had to borrow money, or have fallen behind on their bills — we are laser focused on getting the most money, as quickly as possible," said Labor Commissioner Robert Asaro-Angelo.
Since mid-March, 1.58 million people have applied for unemployment, with 1.38 million meeting the monetary requirements for benefits. Of those, 96 percent have received payment, with an average benefit of more than $11,300 per claimant.
Also this week, the Commissioner testified before the Senate Budget Committee about the technology improvements and staffing increases that helped the department handle an influx of pandemic-related claims never before seen in history.
"We have always remained steadfast in our mission to get every eligible worker every penny they deserve," Asaro-Angelo told the panel.
The Labor Department announced it expects to have the programming in place next month to distribute $300/week from the federal FEMA grant known as the Lost Wages Supplemental Assistance (LWA) program. New Jersey has been approved for five weeks of these benefits, and has applied for Week 6. Claimants will be contacted once a process is in place on how to claim the funds, which will be paid for a limited time in addition to their other unemployment benefits.
Here is a look at the number of new unemployment claims received by the department each week:
Click the images below to view them full-size.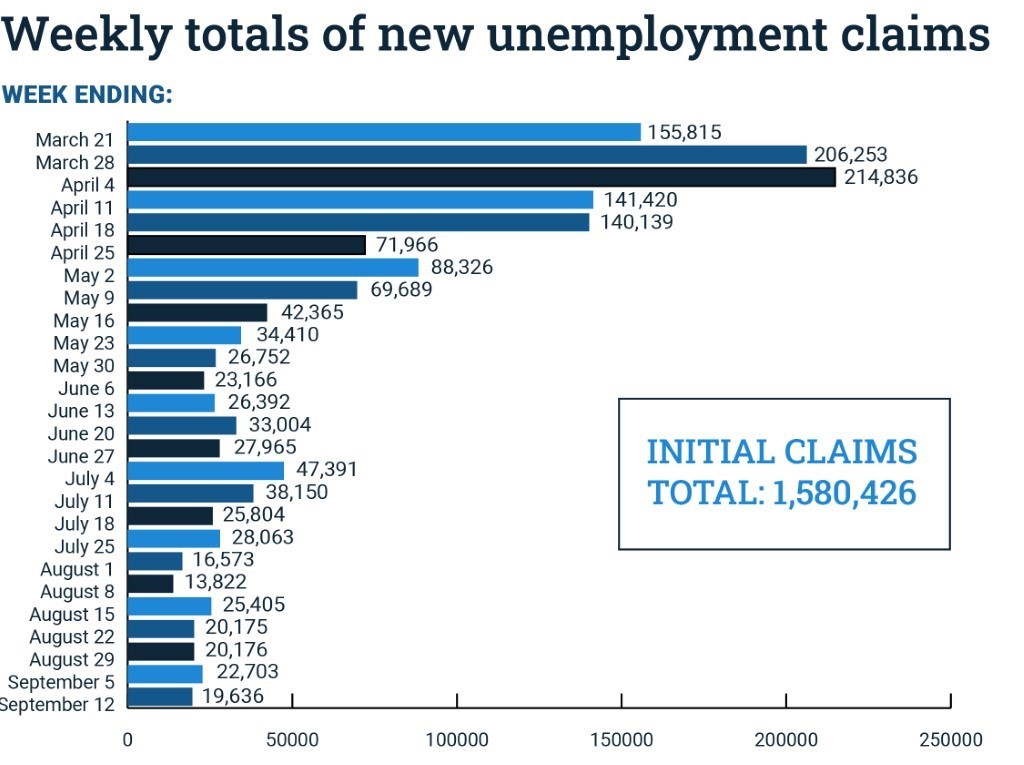 *This represents the final number for the week ending Sept. 12. The number listed for New Jersey by the US Department of Labor – 18,798 – is based on advanced reporting.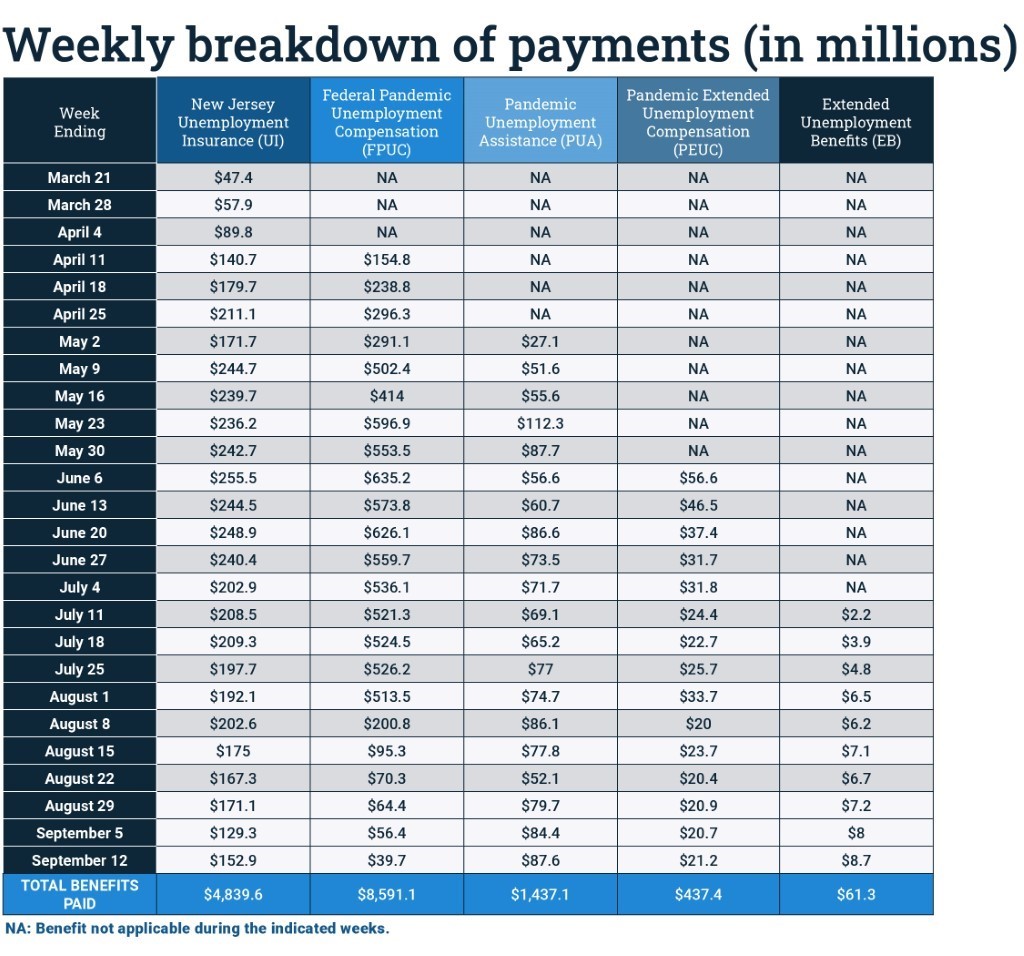 PUA, PEUC and FPUC are federal programs authorized by Congress under the CARES Act. Pandemic Unemployment Assistance (PUA) provides benefits through the end of the year; maximum eligibility is 46 weeks, including extended benefits. Pandemic Emergency Unemployment Compensation (PEUC) provides 13 weeks of federal benefits for those who exhaust 26 weeks of state unemployment. State extended benefits (EB) automatically offers an additional 20 weeks of assistance once PEUC ends. Federal Pandemic Unemployment Compensation (FPUC) provided $600/week to everyone eligible for unemployment for the weeks of April 4 through July 25. Congress has thus far failed to extend the program.
For more information on state or federal unemployment programs, visit myunemployment.nj.gov.
Anyone looking for work is encouraged to visit New Jersey's jobs portal — jobs.covid19.nj.gov — which matches jobseekers with immediate openings in industries such as food distribution, warehousing and health care.
For national unemployment data, click here and for archived NJ claims data, click here.