News Department
NJ AG, DEP commissioner announce seven new environmental cost recovery lawsuits targeting polluters, responsible parties
Complaints Seek to Recover Costs to the State of Investigating, Remedying Contamination that Tainted Drinking Water Supplies, Threatened Other Harms
TRENTON, NJ – Acting to protect New Jersey communities and hold polluters financially accountable for harm they caused to the environment, Attorney General Gurbir S. Grewal and Department of Environmental Protection (DEP) Commissioner Catherine R. McCabe announced Friday the filing of seven new lawsuits centered on contamination that tainted drinking water supplies and created other threats to public safety and health.
The seven unrelated complaints address a broad array of environmental harms linked to the unlawful discharge and storage of hazardous chemicals by such businesses as dry cleaners, automotive repair and filling stations, a clothing factory and others.
In all of the cases, the State has already spent money to remedy the environmental impact from the pollution, and now seeks to recover its costs from the polluters and other responsible parties. The initiative sends the message that those who are legally responsible for remedying environmental contamination will be held financially accountable
Filed Friday in state Superior Court venues throughout New Jersey, the complaints focus on contaminated properties in six municipalities – Boonton and Montville Township (Morris County), Hopatcong (Sussex County), Livingston (Essex County), Pittsgrove Township (Salem County), Union Township (Union County) and Winslow Township (Camden County).
In addition to pollution of drinking water sources, the complaints describe contamination of soil and groundwater with such chemicals as lead, MTBE (methyl tert-butyl ether), PCE (perchloroethylene), TCE (trichloroethylene) and petroleum hydrocarbons such as benzene, toluene, ethylbenzene and xylenes — collectively referred to as BTEX.
All of the chemicals cited in today's lawsuits have been linked to significant health problems, particularly among such vulnerable populations as the elderly, young children and women who are pregnant.
"The cases we've filed today demonstrate our continuing commitment to protecting our environment," Grewal said. "In New Jersey, polluters can expect to be held accountable. They can expect to clean up after themselves, and if they refuse to do so, to reimburse the State for the costs it incurs to protect our residents and our environment."
"With these cost-recovery lawsuits, Governor Murphy, Attorney General Grewal and I continue to move aggressively against polluters who have placed New Jersey's public health and natural resources at risk," McCabe said. "The state's taxpayers have had to front significant costs for the remediation of contamination from hazardous chemicals that impacted these sites and surrounding areas. Simply put: this is wrong. Those responsible for this pollution must pay up – and we are taking them to court to make sure they do so. These lawsuits – combined with legal enforcement to promote environmental justice and the state's aggressive Natural Resource Damage complaints – will make New Jersey cleaner, stronger and fairer for the future."
Each of the seven complaints filed today involve actual or threatened impacts on New Jersey residents, including chemical vapors that have intruded into residential dwellings, and chemical contamination of potable water supplies used for drinking and other daily needs by homeowners and, in one case, a church and church daycare center.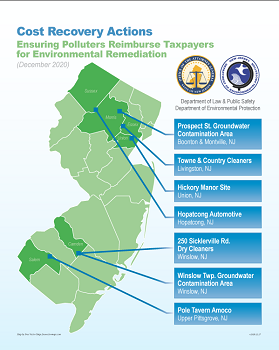 Hickory Manor Site, Union Township 
A condominium complex located in Union Township, Hickory Manor sits on a property once used by the Elastic Stop Nut Corporation of America (ESNA). ESNA manufactured specialty metal fasteners for the aerospace and automotive industries, and for many years used the chlorinated solvent TCE during production. In 2009, excessive levels of TCE vapors were detected in the soil beneath the buildings at Hickory Manor. Because those vapors were also entering the condominium units, it became necessary for DEP to fund the installation of vapor mitigation systems within the residential buildings. According to today's complaint, ESNA and its successors unlawfully discharged TCE into the soil at the site, and are responsible for DEP's "substantial" costs in addressing the TCE vapors.
Filed in Superior Court in Union County, the complaint alleges violation of the New Jersey Spill Compensation and Control Act (Spill Act) by two defendant companies identified as successor companies to ESNA — ABB Installation Products and Harvard Industries. A third defendant, real estate developer Hovnanian Industries, is also facing liability under the Spill Act, as well as counts of negligence and unjust enrichment. Hovnanian is accused of building condominiums in the footprint of the former ESNA industrial facility, which was tainted by decades of alleged unlawful toxic discharges and failing to remediate the property before doing so. In addition to seeking reimbursement for the costs DEP incurred to protect the Hickory Manor residents from toxic vapors, the complaint seeks to compel the defendants to remediate contamination at the site.
Prospect Street Groundwater Contamination Area (Boonton and Montville Township) 
Filed in Superior Court in Morris County, the State's complaint alleges that the former Gotthelf Knitting Mills, which operated a sweater-manufacturing facility in Boonton from approximately 1957-1997, discharged hazardous pollutants – namely TCE and PCE – into the environment, and in doing so caused contamination of potable wells in Boonton and neighboring Montville Township. The contamination was discovered in 2000 when a painting contractor noticed that water from a home's kitchen tap had a strange odor.
According to the complaint, DEP provided funding to have nearby homes connected to the available public water supply after their potable wells were contaminated, and installed Point of Entry Treatment Systems (POETS) on wells supplying water to homes that could not immediately be connected to public supply lines. The State's three-count complaint seeks reimbursement from the defendants of funds expended by DEP. In addition to Gotthelf Knitting Mills, the State's complaint names as a defendant ITCA Partners, LP, of Mountain Lakes, which acquired the Gotthelf Knitting Mills site in October 1998.
Pole Tavern Amoco, Upper Pittsgrove Township 
Filed in Superior Court in Salem County, this complaint seeks reimbursement for DEP's costs in addressing the unlawful discharge of hazardous substances and pollutants at a service station property on Route 40 in Upper Pittsgrove Township that was operated for decades under a string of owners. According to the complaint, removal of underground storage tanks in the 1990s prompted soil sampling that revealed excessive concentrations of petroleum hydrocarbons including benzene, toluene, ethylbenzene and xylenes (BTEX), methyl tert-butyl ether (MTBE), and tertiary butyl alcohol. The complaint alleges violations of the Spill Act and Water Pollution Control Act, as well as claims of unjust enrichment and negligence, and names defendants including: Tri-County Oil Company, Inc.; M.T. Fuel Stop, Inc.; Jessi Fuel Stop LLC; Jassi Fuels, LLC; Mani Fuel, LLC; Pole Tavern Route 40, LLC (d/b/a Garden State Fuel or Pole Tavern Gulf); DGK Investment Group, Inc.; and Balkar Saini, whom the complaint identifies as an officer of several named defendants.
According to the complaint, contamination from the service station property eventually migrated off the property and tainted certain potable water wells nearby.
Over the years, the complaint alleges, the defendants failed to comply with DEP directives to conduct sampling and remediation work at the property, as well as to address MTBE contamination found in some wells that supplied nearby residences with potable water. The complaint also notes that financial penalties imposed by DEP for the owners' failure to comply went unpaid.
250 Sicklerville Road Dry Cleaners (Winslow Township) 
Filed in Superior Court in Camden County, this four-count complaint centers on harmful chlorinated solvents (PCE and TCE) contaminating a commercial property located at 250 Sicklerville Road in Winslow Township. Between 1986 and 2004, the property was the site of various dry cleaning businesses operated by different owners, and the complaint asserts that common dry cleaning solvents used and unlawfully discharged by those businesses caused the pollution at issue. Although the PCE and TCE flowing from 250 Sicklerville Road has affected neighboring properties – most notably the Christ Care Unit Missionary Baptist Church (CCUMBC) – the central property at issue is a one-story commercial building containing multiple retail units.
In the early 2000s, DEP collected samples from a  CCUMBC well, which was used as a source of drinking water and for irrigation, and detected excessive levels of PCE and TCE.  The church's tainted well was abandoned in 2006. Later, TCE and PCE contamination was also detected in a well on a nearby residential property.  DEP subsequently paid to install POET systems to remove contaminants in that residential well as well as another CCUMBC well that supplied groundwater to the church's daycare center.
Today's complaint alleges violations of the Spill Act, the Water Pollution Control Act, unjust enrichment and negligence. It names a list of defendants including Cumberland Farms, Inc., which operated a convenience store on the site from 1975 to 1998; Donte's Dry Cleaning, Inc. (a/k/a Donte's 1-Hour Cleaners); Minuteman Cleaners (a/k/a Minuteman III Cleaners); HS2N Ltd.; Hegamin Cleaners; and JD Royal Properties, LLC.
Winslow Township Groundwater Contamination Area (Winslow Township) 
According to the State's complaint, residents living on and around Stephen Drive and Linda Lane in Winslow Township relied on groundwater as a potable water supply, using private wells to pump the water into their homes for drinking, bathing, cooking and other household purposes. In 1999, DEP discovered that groundwater in the area contained excessive levels of the chlorinated solvents PCE and TCE, as well as other hazardous substances.
The health of residents was endangered not only by consumption of the tainted groundwater, the State's complaint explains, but also by the potential for inhaling PCE and TCE molecules that had volatilized and turned into gas and intruded into their homes. According to the complaint, DEP expended "significant public money" to provide residents with access to clean water by connecting affected households to the public water supply.
DEP's investigation traced the contamination to three separate sites located along Route 73: a 15-acre property owned by the Lightman Drum Company, which ran an industrial waste hauling and drum reclamation business there for many years; an industrial property at which SAR Industrial Finishing has long used TCE and PCE in cleaning and degreasing processes required before machinery can be refinished; and the Cedarbrook Site , a strip mall where builder Joseph Iuliucci previously ran a home construction business and where PCE discharges occurred.  Filed in Superior Court in Camden County against Lightman Drum, SAR, Iuliucci's estate, and other defendants, the State's complaint includes Spill Act, Water Pollution Control Act, and unjust enrichment claims.
Hopatcong Automotive (Hopatcong) 
Filed in Superior Court in Sussex County, this case involves a property in Hopatcong operated by Hopatcong Automotive Service, Inc. between 1975 and 1994, when it was purchased by defendants (and current owners) Murathan Hazer and Suna Hazer. The State's complaint alleges that the Hazers failed to have the site remediated although they knew the property was contaminated with such chemicals as benzene, ethylbenzene, toluene and xylenes (BTEX) and received a 2007 DEP directive ordering them to clean up the site. DEP then expended public funds to address pollution that had affected, among other things, the property's drinking water system.
Among other relief, today's two-count complaint seeks to have the Hazers ordered to reimburse the State for three times the State's clean-up and removal costs. In addition to the Hazers, other named defendants in the case are Max's Neptune Enterprises, Inc. and Max's Mars Enterprises, Inc. Both are legal entities through which the Hazers conduct business, according to the lawsuit. 
Towne & Country Cleaners (Livingston)
Filed in Superior Court in Essex County, this four-count complaint centers on the alleged, long-term illegal discharge of the dry cleaning solvent PCE from a property on Livingston Avenue in Livingston. The property was once the site of Towne and Country Cleaners, and was purchased in 2004 by Bemar Associates. According to the State's complaint, the PCE discharges have contaminated soil, groundwater, and a potable water supply well belonging to Livingston Township.
DEP addressed the contamination in 2008 after Bemar Associates, as well as the estate of the deceased former site owner, allegedly failed to comply with a 2007 DEP directive to do so. Defendants in the case include Bemar Associates, LLC; Divya Grocery Inc. (d/b/a Livingston Food Mart); Smine LLC (d/b/a Smine Cleaners) and John Nakashian (formerly d/b/a Towne and Country Cleaners).  The complaint alleges violations of the New Jersey Spill Act, Brownfield and Contaminated Site Remediation Act, and Site Remediation Reform Act, and a claim of unjust enrichment. 
The cost recovery actions announced today are being handled by Deputy Attorneys General Carley Doyle, Mark Fisher, Daniel Harrison, Erin Hodge, Nielsen Lewis and Buffy Wilson, Assistant Section Chief Paul Stofa, Section Chief Gary Wolf and Assistant Attorney General Jennifer Fradel of the Environmental Enforcement and Environmental Justice Section in the Division of Law's Affirmative Civil Enforcement Practice Group.