News Department
NJ Labor Department: Jobless workers have received $23.4B in COVID-related benefits
NEW JERSEY – The New Jersey Department of Labor and Workforce Development has distributed $23.4 billion in unemployment benefits to more than 1.5 million claimants during the COVID-19 pandemic, including $514 million last week alone.
The Department recorded 10,776* new unemployment claims last week – 787 fewer than the week prior, for a week-over-week drop of 7 percent. This is the lowest weekly total of new claims since mid-March of last year. However, the total number of initial unemployment claims received since that time tops 2 million**, more than at any other point in history.
"As this pandemic continues to be felt by workers across the state, we have maximized our resources to serve those in need. Our Department has tripled the number of staff supporting unemployment, and we continue to hire new employees to meet the historic volume of long-term claims. As public servants, our only mission is to get the most money to the most eligible residents in the shortest amount of time," Labor Commissioner Robert Asaro-Angelo said.
The Department also continues to urge Congress to pass an extensive, new rescue and recovery bill before March 13, when the current pandemic unemployment benefits run out. States need time to program in the new provisions so there is no lapse in benefits for claimants who are depending on this partial, temporary income replacement.
Here are the week-by-week totals of new unemployment claims: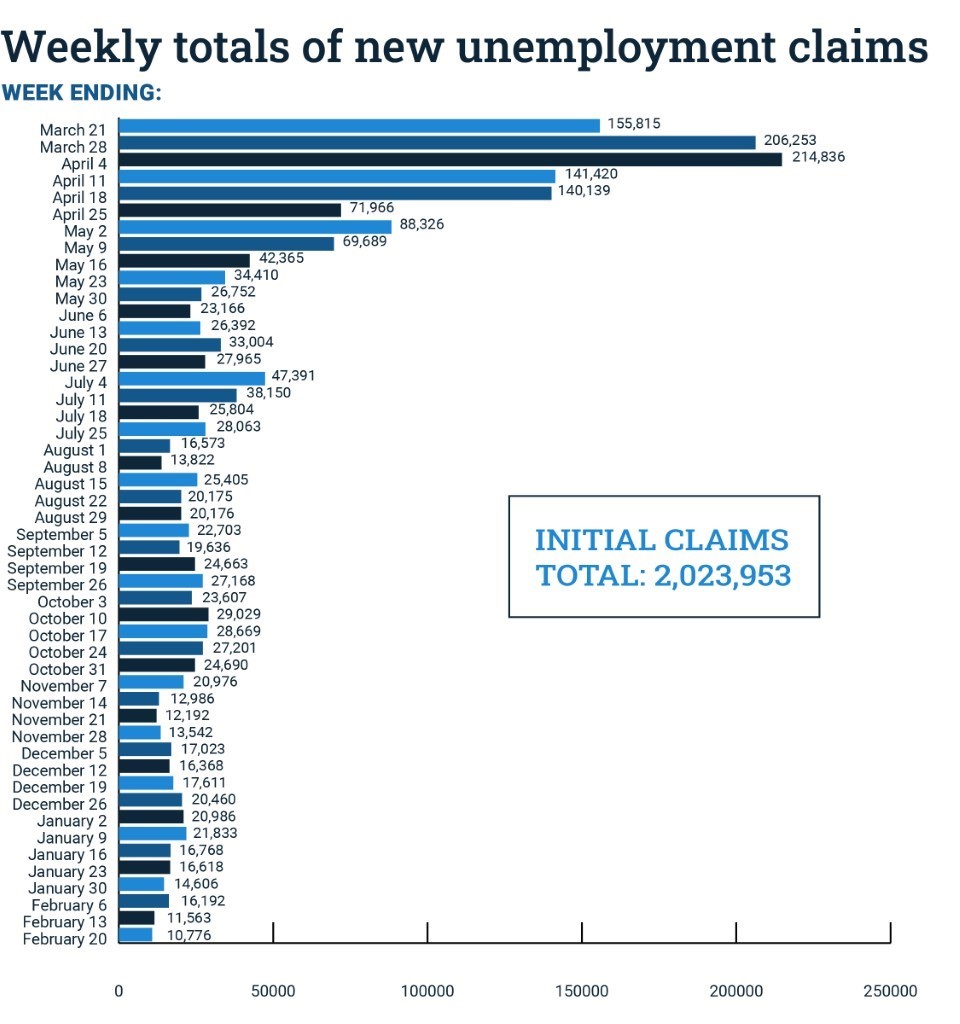 *This represents the final number for the week ending Feb. 20. The number listed for New Jersey by the US Department of Labor – 10,029 – is based on advanced reporting.
**This number includes 230,124 claims that have been reopened by residents who returned to unemployment after a period of employment within a calendar year, as well as claims that later turned out to be fraudulent.
Here is the breakdown of weekly benefits payments to eligible New Jersey workers: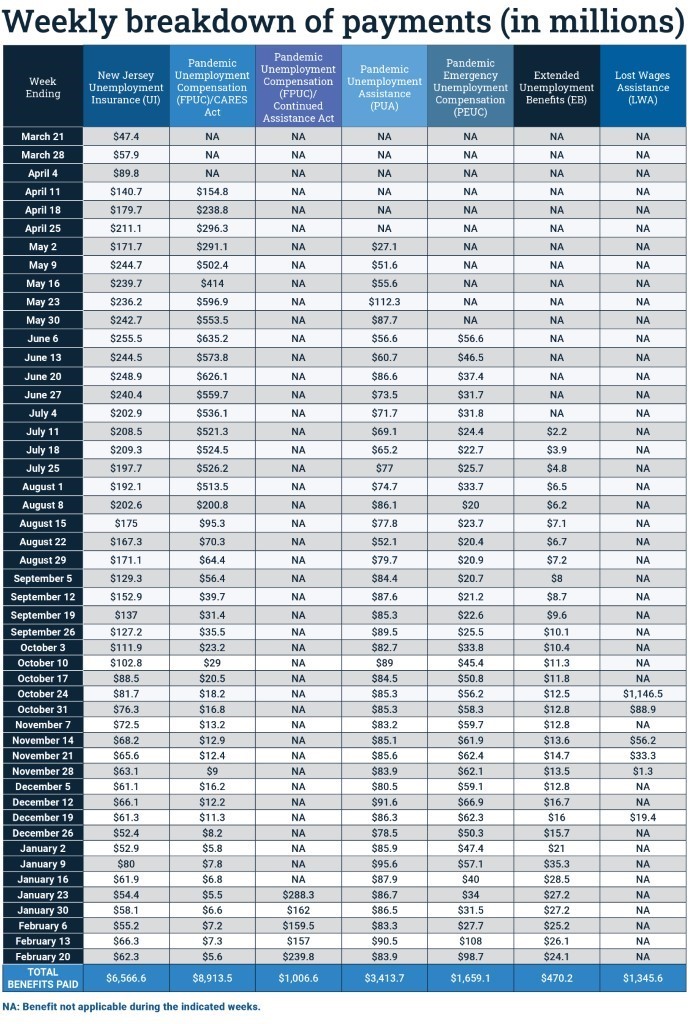 PUA and PEUC were authorized by Congress under the CARES Act through Dec. 26, 2020, then extended under the Continued Assistance to Unemployed Workers Act through March 13. The maximum eligibility for PUA is now 57 weeks. PEUC now provides up to 24 weeks of additional benefits to those who exhaust 26 weeks of state unemployment. Extended benefits (EB) adds a final 20 weeks of benefits. The renewed FPUC benefit is a $300/week unemployment supplement for anyone collecting unemployment in any amount; the original program, which provided $600/week in supplemental benefits, expired in July. Lost Wages Assistance (LWA) was funded by FEMA and provided six weeks of supplemental benefits to people unemployed Aug. 1 through Sept. 5, 2020 due to COVID.
For more information on state or federal unemployment programs, visit myunemployment.nj.gov.
Visit New Jersey's jobs portal here: jobs.covid19.nj.gov.
For national unemployment data, visit www.dol.gov/ui/data.pdf.
For archived NJ claims data, visit oui.doleta.gov/unemploy/DataDashboard.asp.