NEW JERSEY – The New Jersey Department of Labor and Workforce Development has distributed $19.7 billion in unemployment benefits to workers across the state since COVID-19 upended businesses nine months ago, with claimants receiving an average of $13,890 in wage-replacement benefits.
The Department received just over 17,000 new applications for unemployment during the week after Thanksgiving — a 26 percent rise from the prior week — which increased the number of New Jersey workers who have sought jobless benefits since mid-March to 1,840,172. A post-Thanksgiving week increase in new unemployment claims was also reported nationally. The national increase was 31.9 percent.
Meanwhile, federal pandemic unemployment benefits authorized under the CARES Act will expire on Dec. 26, adversely affecting just under 500,000 New Jersey claimants. All eligible weeks prior to Dec. 26 will continue to be paid; federal law prohibits New Jersey from paying these benefits to workers for weeks beyond Dec. 26.
"We know how much this is going to hurt New Jersey families just after the holidays, so we remain hopeful new federal legislation will be enacted to provide much-needed relief to our state's workers and small businesses without delay," Labor Commissioner Robert Asaro-Angelo said.
A new law signed by Gov. Murphy expands eligibility for collecting extended unemployment benefits, making thousands of additional claimants eligible. The Labor Department will notify those who are eligible that they can begin certifying for the additional weeks.
The Department distributed $230 million in benefits during the week ending Dec. 5, and has sent a total of $19.75 billion to workers impacted by the pandemic.  

Here is a look at the weekly payments made by the Labor Department to eligible claimants: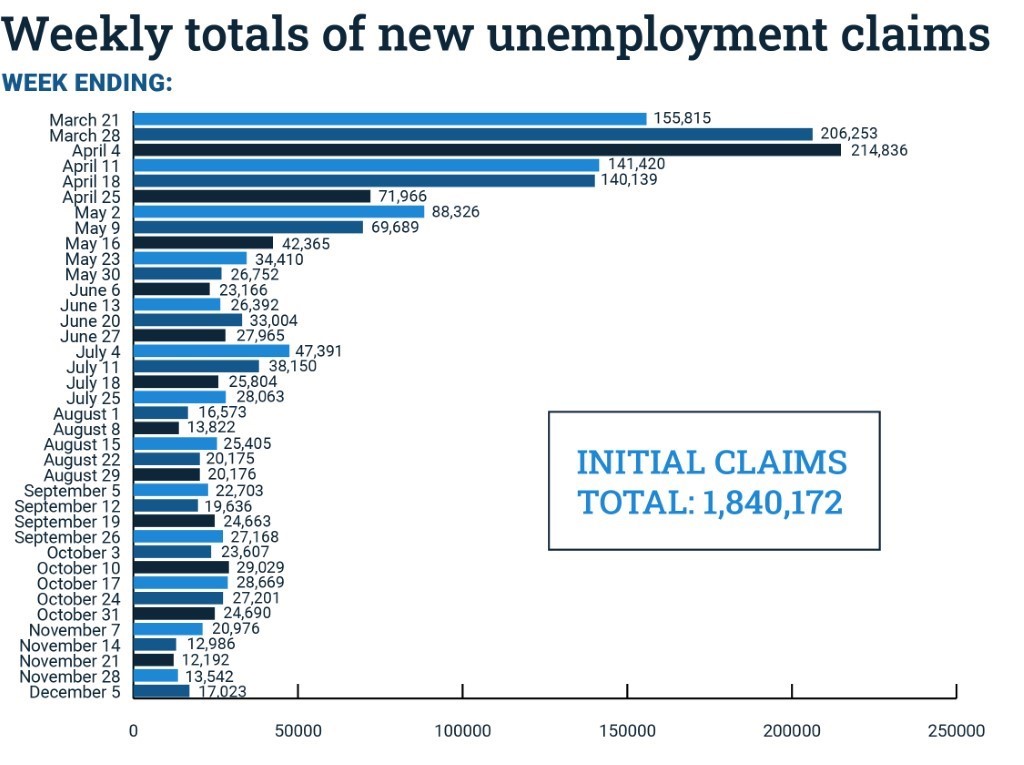 *This represents the final number for the week ending Dec. 5. The number listed for New Jersey by the US Department of Labor – 15,947 – is based on advanced reporting.  

Here is the breakdown of weekly benefits payments to eligible New Jersey workers: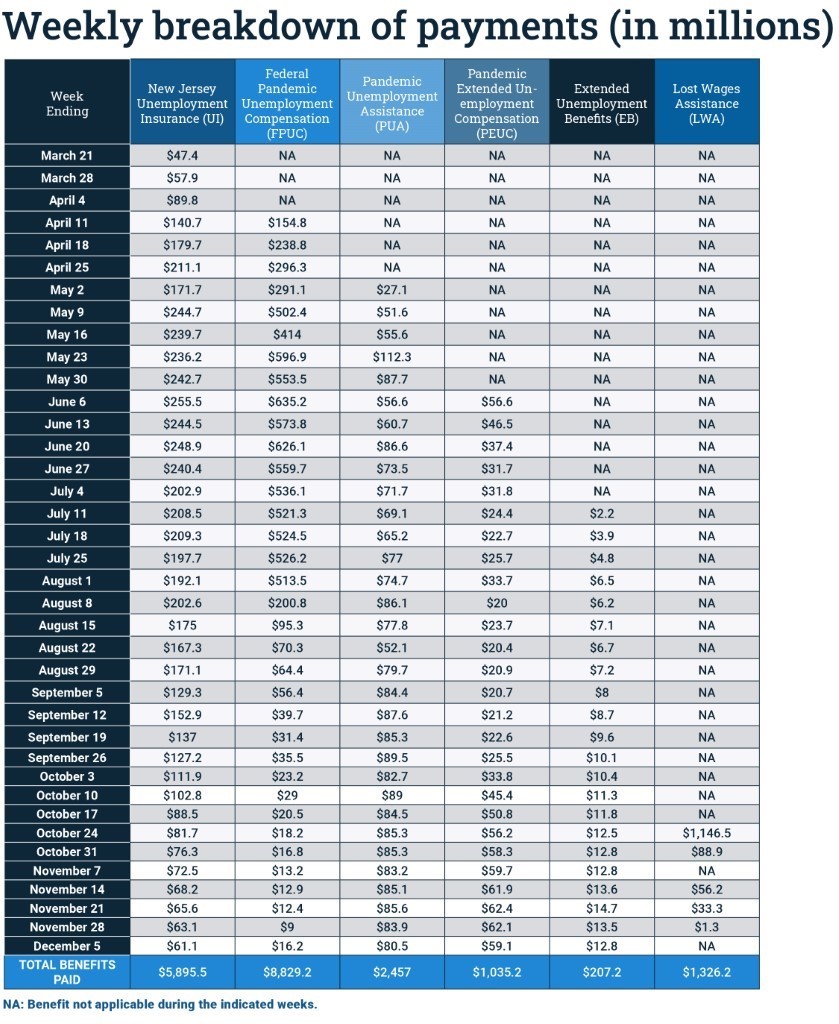 PUA, PEUC and FPUC are federal programs authorized by Congress under the CARES Act. Pandemic Unemployment Assistance (PUA) provides benefits through the end of the year; maximum eligibility is 46 weeks. Pandemic Emergency Unemployment Compensation (PEUC) provides 13 weeks of federal benefits for those who exhaust 26 weeks of state unemployment. Most of them are able to transition to 20 weeks of state Extended Benefits (EB). Federal Pandemic Unemployment Compensation (FPUC) provided $600/week to everyone eligible for unemployment for the weeks of April 4 through July 25. LWA provided up to six weeks of supplemental benefits through FEMA to people unemployed the weeks of Aug. 1 through Sept. 5 due to COVID, and who were eligible for at least $100 in weekly unemployment.
For more information on state or federal unemployment programs, visit myunemployment.nj.gov.
Anyone looking for work is encouraged to visit New Jersey's jobs portal — jobs.covid19.nj.gov.
For national unemployment data, visit dol.gov/ui/data.pdf and for archived NJ claims data, click here.