News Department
Weekly unemployment claims jump 25% as pandemic pushes benefits applications past 1.6M
NEW JERSEY – The New Jersey Department of Labor and Workforce Development (NJDOL) received 24,663* initial unemployment claims last week, a 25 percent increase over the previous week, as the number of workers seeking jobless benefits now tops 1.6 million since COVID-19 forced many businesses to close six months ago.
The NJDOL has distributed $15.6 billion in federal and state unemployment benefits to workers who lost their jobs, were furloughed, or had their hours reduced in the pandemic, including $286 million for the week ending Sept. 19.
"New Jersey workers continue to struggle with the weight of unemployment and underemployment, and the accompanying financial worries of not having a job," Labor Commissioner Robert Asaro-Angelo said. "The Labor Department staff knows the difficulties our customers are facing, so they work hard every day to resolve as many cases and answer as many questions as possible."
Of those who have sought unemployment, 1.4 million have met the monetary requirements for benefits. Of those, 96 percent have received payment, with an average benefit of $11,690 per claimant.
Additionally, the Department has been approved for six weeks of funding through FEMA's Lost Wages Supplemental Assistance (LWA) program. The funding gives eligible claimants $300/week in addition to their other unemployment benefits for a limited time. Programming will be in place next month to distribute lump sum payments.
Here is a look at the number of new unemployment claims received by the department each week: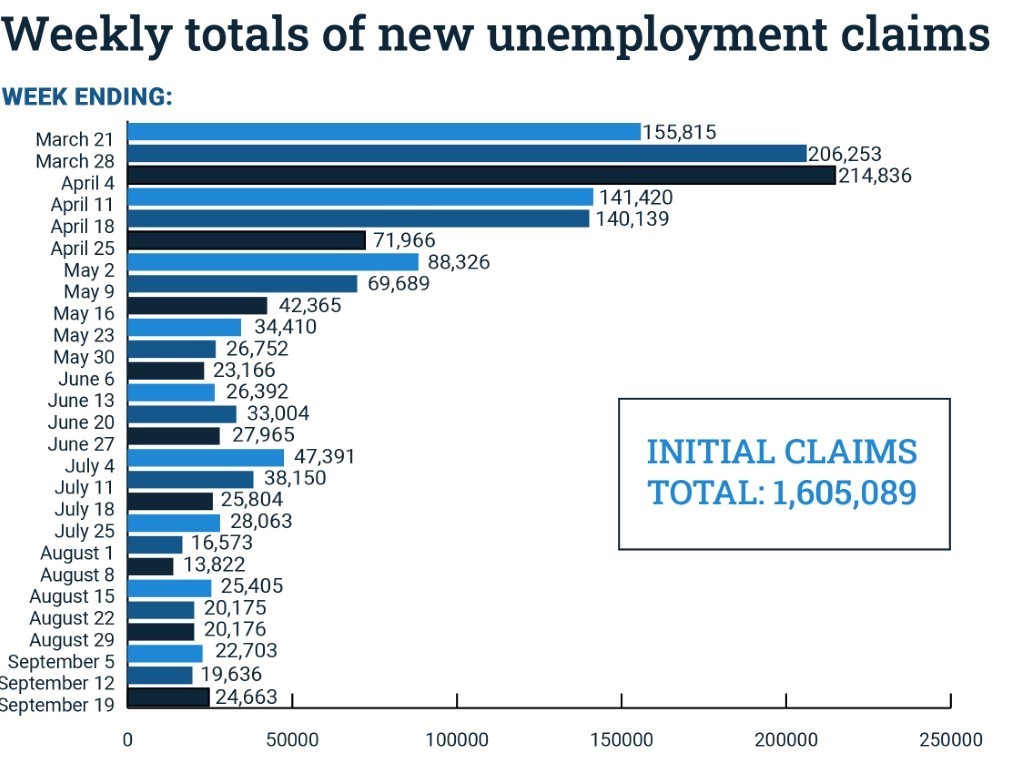 *This represents the final number for the week ending Sept. 19. The number listed for New Jersey by the US Department of Labor – 23,661 – is based on advanced reporting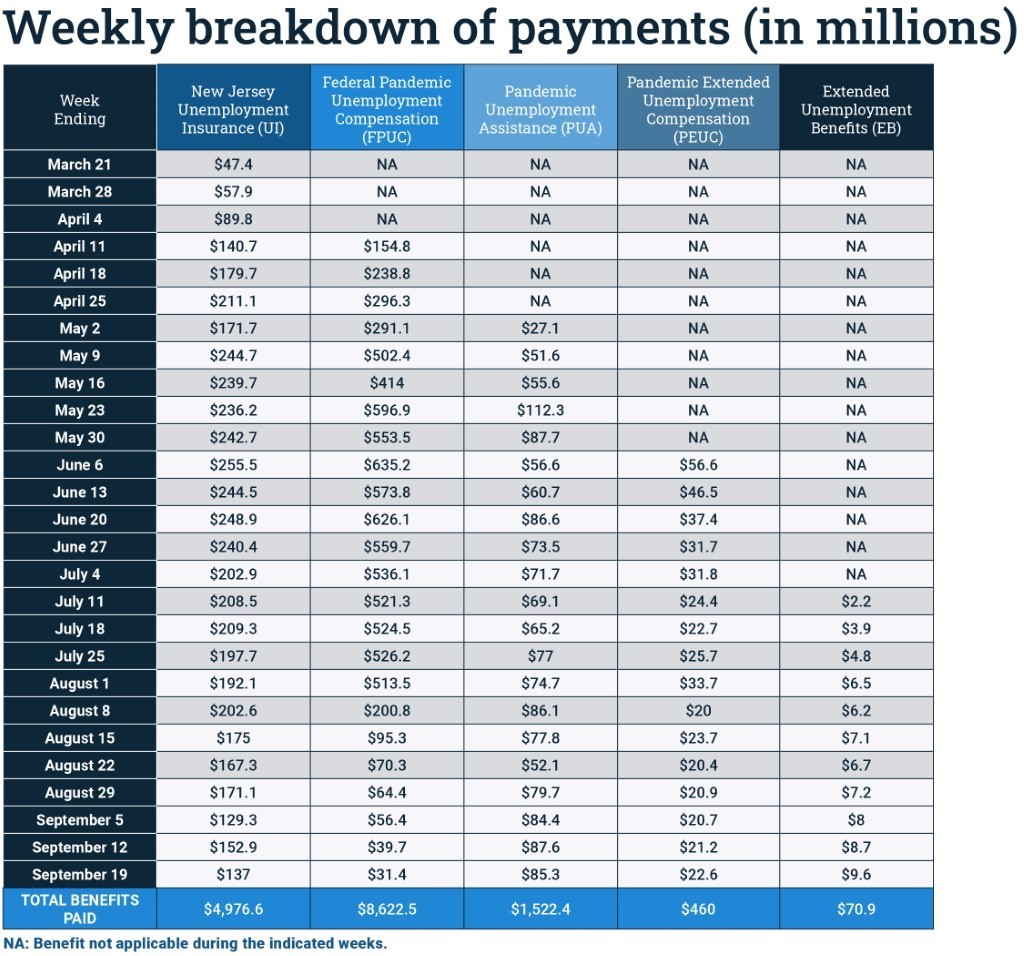 PUA, PEUC and FPUC are federal programs authorized by Congress under the CARES Act. Pandemic Unemployment Assistance (PUA) provides benefits through the end of the year; maximum eligibility is 46 weeks, including extended benefits. Pandemic Emergency Unemployment Compensation (PEUC) provides 13 weeks of federal benefits for those who exhaust 26 weeks of state unemployment. State extended benefits (EB) automatically offers an additional 20 weeks of assistance once PEUC ends. Federal Pandemic Unemployment Compensation (FPUC) provided $600/week to everyone eligible for unemployment for the weeks of April 4 through July 25. Congress has thus far failed to extend the program.
For more information on state or federal unemployment programs, visit myunemployment.nj.gov.
Anyone looking for work is encouraged to visit New Jersey's jobs portal — jobs.covid19.nj.gov — which matches jobseekers with immediate openings in industries such as food distribution, warehousing and health care.
For national unemployment data, click here and for archived NJ claims data, click here.